move your body and your pen
GOOD WRITdANCE! is a heart warming writing and dance retreat set on the Greek island of Ikaria. We examine how our mind and bodies work, and how we can have them dance together!
You'll get daily writing practice, contact dance and soft  body work. Our practise will bring you profound insights into old pains, patterns and habits. And you'll learn to let them go.
Hence GOOD WRITdANCE!, referring to Shakespeares expression 'Good Riddance' (of old rubbish). We'll write and dance ourselves towards a new beginning.
*
With 'Good WRITdANCE!' we say 'Happy to have shed, by writing and dance, old loads from our shoulders!'
*
Teachers: Joey Brown, in cooperation with Katrin Gerner, teacher of Contact Improvisation Dance (Contact Impro).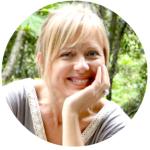 Joey Brown is a writing coach, a transformational coach and meditation facilitator. She lives on the Greek island Ikaria, known for its stunning wild nature and healthy life.
On Ikaria she organises retreats: unique combinations of writing, silence, meditation, constellation work and dance. All her retreats have the same purpose: to bring about life-changing transformation. Read more on her personal page: Joey Brown
*
Katrin Gerner is the owner of The EGG, een fantastic open air dance space on the Greek island Ikaria. Katrin built The Egg out of her passion for Contact Improvisation Dance. Katrin partly lives in Germany, partly in Ikaria. During the retreat she'll teach you the basics of Contact Dance.
What is contact improvisation?
Contact Improvisation is a partner dance form based on the physical principles of touch, momentum, shared weight, and most quintessentially - following a shared point of contact. This dance practice explores the skills of falling, rolling, counterbalance, lifting using minimal effort, centering and breathing techniques, and responsiveness to our partners and surroundings.
*
Contact Improvisation is an honoring of every moment. There is a sweet surrendering that happens when our bodies stay faithful to what is happening now, and now... and NOW! One learns to recognize and differentiate subtle impulses in our movement choices and our partner's choices. In this form one learns to stay in integrity with each choice, never forcing, never rushing. When Body, Mind, and Spirit are united in their instinctive wisdom one finds ones-self at home in every moment expressing ones true nature.     - Moti Zemelman
All our practise, whether it be writing, meditation or dance, will be easy to learn and to perform. Also later, at home, you will be able to continue the practise by yourself.
You'll learn the basics of Contact Improvisation Dance, a way of totally free moving that fully restores all contact with yourself and others.
We'll explore old habits, patterns, unhealthy relationships, trauma's that might be hidden in your muscles and prevent you from moving freely. Finally you'll find ways to let it all go.
*
What happens in your mind when you dance?

What happens in your body when you write?

Moving both at the same time, body and mind, will give you a

mind blowing transforming experience.
SUNDAY 10 SEPTEMBER
Arrival day. Pick up at 18.30 at your hotel for a first meeting, meditation and evening meal.
MONDAY 11  - SATURDAY 16
5 workshop days + 1 day of rest. You'll get 5 to 6 teaching hours per day.
One day will be a day of rest (needed because of the intensity of the program).
You'll get a balanced mix of writing practice, dance practice, Authentic Movement, body and energy work.
Included in the teaching program: 2 excursions.
SUNDAY 17
We take our time to say goodbye. No workshops.
new wings
self confidence
trust in your personal power
inspiration and practical tools
a stronger and more flexible body
a strong and flexible mind
loads of insights
a clear view on the path you are destined for
P.S. You don't have to be a professional dancer or writer to be able to join this retreat. Our exercises are open to all levels!
You stay in the Karras Star Hotel, a three star hotel with a swimming pool at only 2 minutes walking distance of the seminar house The EGG.
All workshops take place at The EGG, a fantastic open air seminar house, right at the sea. You won't believe its beauty when you enter it!
There's a possibility to extend your stay. Please ask and inform me in time, as to prevent confusion with the hotel bookings.
Breakfast is included at the Karras hotel.  Lunch will be served in The EGG.
Evening meals are not included. There are plenty of small taverns and restaurants nearby. It's your opportunity to explore the island!
Ikaria has many things to see and to do. Feel free to join the daily Open Program of The Egg (Yoga, Meditation and Yoga Dance) or to explore Ikaria's beaches or village feasts.
899 EUR for a shared room
1049 EUR for a single room
7 nights accommodation in the Karras Hotel (***)
6 x breakfast buffet in Karras
rent of The EGG
4 x lunch in The EGG
meditations
systemic constellation work
writing practice and workshops
contact improvisation workshops
taxes
travel expenses
travel insurance
evening meals
rent of cars
airport transfer to and from the hotel
An evening meal will cost you around 15 EUR a day. According to the amount of participants we'll rent cars, so that you are free to go and explore wherever you want. For the rent of the cars we'll ask an extra fee of 5 EUR a day plus gas.
For questions about your travel to Ikaria: have a look at my page Travel information.
*
Subscription is easily done online. Just click on the button, fill in the form and I'll get back to you within 2 working days.