rest & emotional healing after breast cancer
The (b)re(a)st retreat is a healing rest retreat for emotional recovery after breast cancer. It's a transforming journey in which you restore deep contact with your femininity and sensual energy.
Healing will be done on the physical, emotional and spiritual level through writing, body painting, meditation, energy work, restorative yoga, movement, family constellations, visualisation techniques and reflexology treatment.
The wonderful surroundings, the healthy sea air, the thermal baths and the wonderful workshops invite you to become what you really are: a fantastic and sensual piece of art!
The Breast Retreat is a deepening retreat in which mutual support takes on an important role: we women carry each other. Attention also goes to resting, having plenty of time and space for acceptance, emotional release and transformation.
What to expect? How will you go home?
you will restore contact with your body and sensuality
you will grow towards acceptance
you will heal the female line to which you belong through system constellations and take up your place
you will discover your essence, the real you
We'll work around themes such as emotional pain, fear, anger and physical discomfort. We'll use the blueprint of "The Heroin's Journey" to go through 4 phases of emotional processing:
wake-up call, the start of the journey / looking back
the battle and the obstacles / processing
helpers on your path, discover your talents and power / strengthening
transformation & future /looking forward
You'll learn to look at your own story from a different point of view. You'll discover more and more of your talents and strengths and how to integrate them into your daily life.
For all women that feel the need for emotional healing after breast cancer. This means: all women that have finished the active treatment, so after operation, radiotherapy and/or chemotherapy.
For all women that feel the need to restore the contact with their body and femininity after (breast)cancer, operation or mutilation (uterus, ovaries, cervix, ...).
Also women that have suffered fertility problems can find support and guidance in this retreat.
You hate being touched? You dislike group dynamics, sharing and connecting with other women? Then this retreat is not (yet) intended for you. Maybe you feel the need for a first step: 1 on 1 transformational coaching. With my help you learn to give expression to your feelings.
Soon after your subscription an intake will be done through skype call. Should you have doubts or questions about whether this retreat is really what you need, please send me an e-mail through the online contact form.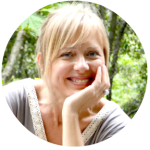 Joey Brown is a writing coach, a transformational coach and meditation facilitator. She lives on the Greek island Ikaria, known for its stunning wild nature and healthy life.
On Ikaria she organises retreats: unique combinations of writing, silence, meditation, constellation work and dance. All her retreats have the same purpose: to bring about life-changing transformation. Read more on her personal page: Joey Brown
Julie Kruijne is bio-engineer and foot reflexologist. She has a passion for and deep knowledge about many aspects of the human being: how we react to impulses from outside? What about the hormonal system and what does trauma create in our physical and emotional body? During the retreat she supports your healing process with head and foot treatment and restorative yoga. Her touch will give your body a new impuls to restore imbalance.
Who are efstathios and vasiliki?
Efstathios Zikos is a licenced psychologist, specialised in patient-reported health-related quality of life outcomes in cancer clinical trials. His research focuses in underreported issues of health-related quality of life, which only patients themselves can accurately capture, and also in psychosocial impact of the disease in cancer survivors and their proxies. During the retreat his focus will be on improving the physical and emotional wellbeing, as well as facilitating the disclosure procedure and process of emotions.  
Vasiliki Balta is a researcher at an international organisation for breast cancer.  During the retreat her main focus will be on restoring the body-mind balance through yoga and breath work.
This sensitive video shows you how a woman, after breast cancer, has the upper part of her body painted by Joey. By surrendering to the process of touch and color, she transforms forever the way she experiences her body ...
Welcome in the guest house 'Agriolykos "or" Wild wolf ", built high up on a cliff overlooking the small village of Therma.
The rooms are basic, but the view, the terrace, the numerous scenic spots and the proximity of the sea are priceless.
Therma is situated in a protected bay, with a mini-harbour at the foot of the mountain. Therma is famous also for its thermal baths, which you can visit every day.
Voula, the owner of Agriolykos, welcomes you with open arms and supports the peace and tranquillity of the guesthouse.
Breakfast is included, as well as the first and last evening meal.
Lunch and other meals are not included. We do share meals regularly and go out often for dinner together, but in this way you have the freedom to skip meals if you feel the need to wander of or to take some time for yourself.
You can use the common kitchen to prepare your own lunch or visit the numerous little restaurants nearby.
As a group we decide at the spot whether we fancy a day trip. We might visit a vineyard or hire some jeeps for a tour around the island, or we might go for a hike into the mountains. Ikaria has plenty of things to see. However nothing is mandatory.
In Therma you can treat yourself to a soothing massage after you've plunged into the healing springs. Trips or additional activities are not included in the price.
990 EUR  for a shared room
1100 EUR 1150 EUR  for a single room (depending on room type)
7 nights at Agriolykos
7 x breakfast
coffee, tea and biscuits all day long
2 evening meals (first and last night)
transfer from and to the airport
daily guided mediations
body painting
workshop story telling
daily guided writing practice
head and foot reflexology
soft body work and touch
and so much more …
taxes
travel cost
travel insurance
lunch
5 evening meals
extra activities
Een evening meal costs around 15 euro, alcoholic drinks not included.
Have a look at my Travel Info page for useful tips and links for your travel to Ikaria.
*
Subscription is easily done online. Just fill in the form and I'll get back to you within 2 working days.
The (B)re(a)st Retreat is an initiative of writing coach Joey Brown. With assistance and support of:
Julie Kruijne, reflexologist, Efstathios Zikos (psychologist and researcher in the field of Quality of life after Cancer) and Vasiliki Balta (researcher).