your dream of a book coming true
1 - 7 June 2018
16 - 22 September 2018
*
A 7-day writer's retreat on the Greek island Ikaria. Here you'll find the time and space to focus on your writing project in the company of fellow writers. Welcome at Therma, a picturesque little village, built at the feet of a steep mountain slope and famous for its natural thermal springs.
With 1-on-1 book coaching by book coach Joey Brown.
need time and space for writing
need coaching
have an idea for a book but you don't know how to start
are confronted with a writer's block
have already written some chapters but you got stuck
…
There are no problems that can't be solved. Together we make your dream of a book come true!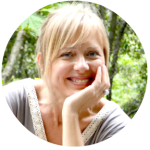 Joey Brown is a writing coach, ghostwriter, transformational coach and meditation facilitator. She lives on the Greek island Ikaria, known for its stunning wild nature and healthy life.
Her retreats are unique combinations of writing, silence, meditation and expression. They all have the same purpose: to bring about life-changing transformation. Read more about Joey.
We open and close every day with a meditation and writing and sharing moment.
During the day there will be plenty of time for writing and 1-on-1 book coaching.
1 - 7 June &  16 - 22 september 2018
Welcome in guest house 'Agriolykos "or" Wild wolf ", built high up on a cliff overlooking the small village of Therma.
The rooms are basic, but the view, the terrace, the numerous scenic spots and the proximity of the sea are priceless.
Therma is situated in a protected bay, with a mini-harbour at the foot of the mountain. Therma is famous also for its healing hot springs
.
Voula, the owner of Agriolykos, welcomes you with open arms and supports the peace and tranquillity of the guesthouse.
Breakfast is included, as well as the first and last evening meal. Lunch and other meals are not included.
You can use the common kitchen to prepare your own lunch or visit the numerous little restaurants nearby.
As a group we decide at the spot whether we fancy a day trip. We might visit a vineyard or hire some jeeps for a tour around the island, or we might go for a hike into the mountains.
In Therma you can treat yourself to a soothing massage after you've plunged into the healing springs.
Trips or additional activities are not included in the price.
Group size is limited to a maximum of 12 participants.
1045 EUR * for a shared room
1165 EUR 1200 EUR * for a single room (depending on room type)
*Prices might change slightly.
7 nights at Agriolykos
7 x breakfast
tea, coffee and biscuits all day long
2 evening meals (first and last night)
transfer to and from the airport
daily individual book coaching
daily guided meditations
daily guided writing practice
taxes
travel cost
travel insurance
lunch
5 evening meals
extra activities
An evening meal costs around 15 euro, alcoholic drinks not included.
Have a look at my Travel Info page for useful tips and links for your travel to Ikaria.
*
Subscription is easily done online. Just click on the button, fill in the form and I'll get back to you within 2 working days.